Chocolate Truffles - 4 Sizes to Choose From
made with dark chocolate and rolled in cocoa powder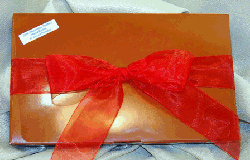 A box of 24 truffles!
Chocolate Truffles Rolled in Cocoa Powder
Try some of our scrumptious Dark Chocolate Truffles Hand Rolled in Cocoa Powder. Lose yourself today in their Pure Indulgence...

We make our Truffles in the traditional Swiss manner. Our Ganache is a mixture of Bittersweet and Semi-Sweet Chocolate to give them just the right creamy taste, then infused with just a little bit of Kahlua. We finish each one by rolling in Dutch Processed Cocoa Powder for the Ultimate Chocolate Experience. These are hand rolled, wonderfully rich and extremely satisfying!

We offer them in 4 sizes. We have a large Truffle in a clear heart box. We also have a box of 6, a box of 12 and a box of 24. All are 1/2 ounce in size and a wonderful bite of chocolate heaven.
We take the extra steps to guarantee your chocolates arrive in a manner that will ensure food safety and preserve quality.
Our Truffles are made with: Bittersweet Chocolate, Semi-Sweet Chocolate, Cream, Butter, Kahlua, Corn Syrup, Dutch Processed Cocoa Powder